At Tavotek we strive to create transformative care for patients which informs our desire to create long standing relationships. We remain unique in our market allowing us to lead a new wave of medicine. Partnerships will further this competitive edge among the immunology and oncology markets.

Because of our strategic focus on building a balanced development pipeline and openness to transformative merger and acquisition opportunities, we are actively looking for partnerships where we can achieve milestones together.
Tavotek strives to be at the forefront of discovery, development, and commercialization of life-changing therapeutic medicines for patients.
Our focus remains in the interests of patients by studying targets that arise from debilitating diseases with significant unmet medical needs. To remain competitive and maximize the potential of our unique skill sets, Tavotek seeks to develop collaborations with like-minded pharmaceutical and biotechnological companies. Together the innovation and commitment to succeed will further the interests of both partners.
Tavotek spans two continents with a presence both in the United States and China. The global approach we embrace allows for Collaborators to gain strongholds on an international level.
We are initiative-taking to make impactful differences in patient's lives by constructing valuable and sustainable relationships. Our team is driven to create the best-in-class medicines with the potential to get patients better, sooner.
Our high-powered business model allows for three types of partnerships.
TavoSelect Partnership
• On-demand use of TavoSelect for targets of interest.
• TavoSelect increases more than 275 disease-relevant antibody leads.
R&D Collaboration
• Technology partnerships and R&D / Discovery collaborations.
Licensing
• Licensing of our current pipelines of antibodies within oncology and immunology.
• Aiming at 2 new targets/year with 50% industry-sponsored portfolio.
Current partnerships
Collaboration with Yisheng Biopharmaceutical, Incyte, and Genmab (2020)
• Discovering, developing, and commercializing biotherapeutics for cancer and infectious diseases using novel PIKA®
immunomodulating technology.
Collaboration with Navrogen (2021)
• Strategic collaboration to identify and develop experimental monoclonal antibodies (mAbs) for the treatment of various cancer
indications using HIO technology.
Collaboration with Takeda (2021)
• Application of TavoSelect technology to assess and create VHO molecules that react specifically to Tau from phosphor-Tau formats.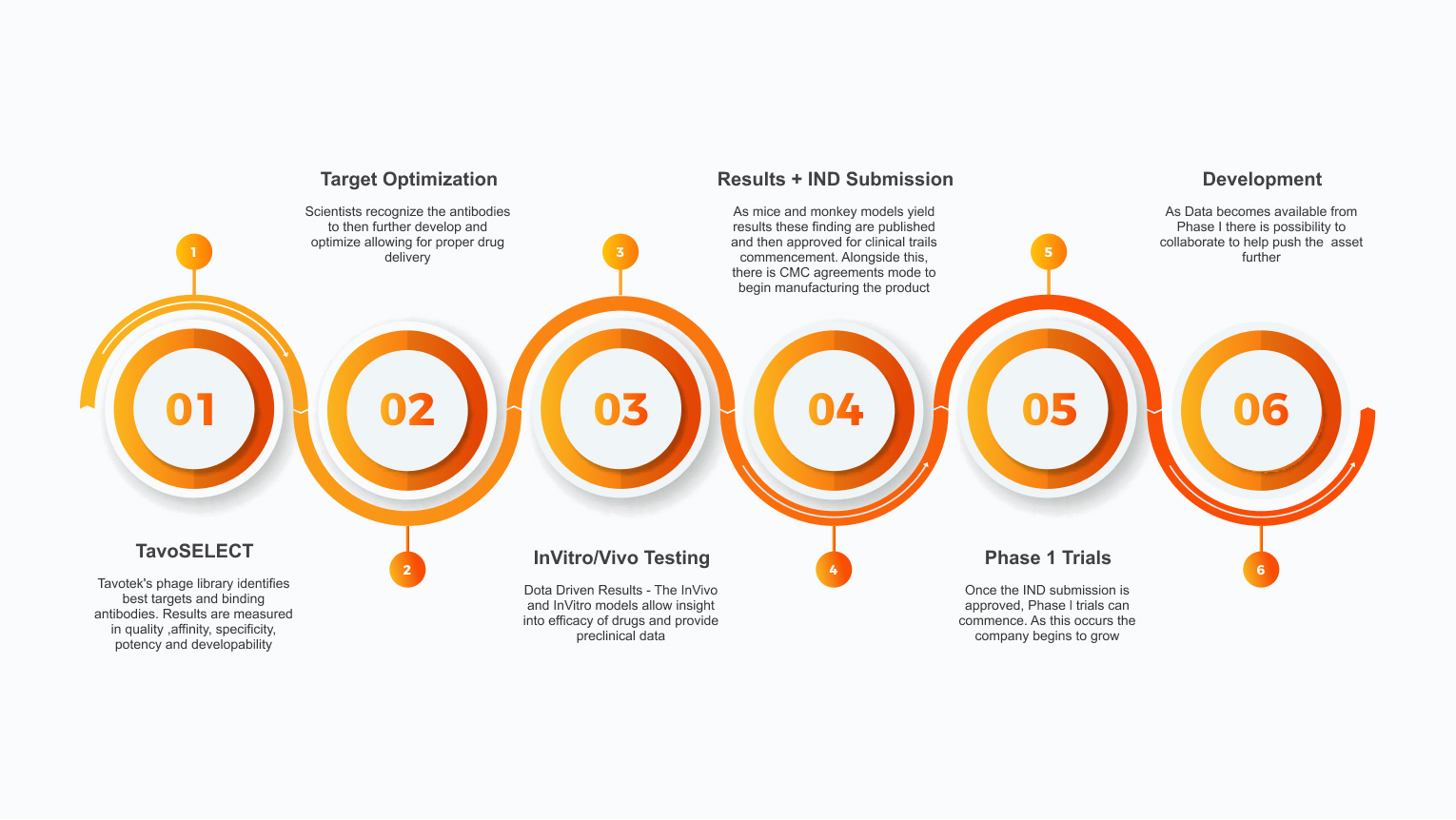 Our Areas of Interest

Tavotek seeks opportunities aimed at bolstering our clinical-stage pipeline by acquiring, licensing, and partnering with clincal-stage assets. Our team is currently evaluating opportunities with a focus on developing new and novel therapies in our core areas of focus.