Disease Focus
Tavotek focuses on developing new treatment options for diseases with high unmet medical needs for which either few therapies exist, or the current standard therapies remain unsatisfactory. We focus on two therapeutic areas:
1. ONCOLOGY
LUNG CANCER is one of the most common cancers in the world due to smoking, environmental pollutants, genetic predisposition, and other risk factors. There are two primary types of lung cancer: non-small cell lung cancer (NSCLC) and small cell lung cancer (SCLC). NSCLC is more common and accounts for about 80% of all cases. Although NSCLC usually progresses slower than SCLC, about 40% of NSCLCs can spread beyond the lungs by the time of diagnosis. NSCLCs are carcinomas of the cells lining the airways, including the bronchi, bronchioles, and alveoli. There are three main subtypes: adenocarcinoma, squamous cell carcinoma, and large-cell carcinoma which are commonly treated with surgery, radiation, or chemotherapy. Prognosis is grave for late-stage diseases with patients living less than a year in the past. However, with the advent of small molecule targeted therapy, antibodies, check-point antagonists, and other new treatment modalities, survival has improved considerably in recent years. Nonetheless, toxicities, and drug resistance to current therapies arise thus requiring additional treatment options to address these unmet medical needs.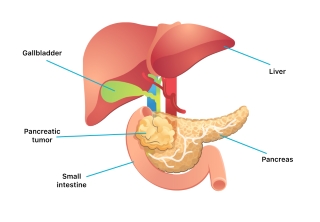 PANCREATIC CANCER is one of the leading causes of cancer death. The pancreas produces digestive enzymes that assist in food digestion as well as produces hormones for blood glucose control. Most pancreatic cancers begin in the cells that line the ducts of the pancreas and is called Pancreatic Adenocarcinoma. There are also less frequently occurring cancers that can form in the hormone-producing cells of the pancreas which are called Pancreatic Neuroendocrine Tumors. Unfortunately, the majority of pancreatic cancers are diagnosed at an advanced stage when treatment options are limited, and the prognosis is poor. Current standard treatments include chemotherapy or chemoradiation with the anti-PD1 antibody or NTRK inhibitor used in select cases. Since patient survival remains poor, there is a very high unmet medical need for new treatment options.
TRIPLE-NEGATIVE BREAST CANCERS (TNBC) are breast cancer types that test negative for estrogen, progesterone, and HER2 receptors and accounts for about 10-15% of all breast cancers. TNBC tends to be more common among younger women, certain races, or subjects who have a BRCA1 mutation. TNBC differs from other types of invasive breast cancer since it can grow and spread quickly along with high recurrence, resulting in poor prognoses. Because hormone therapy and anti-HER2 drugs are not viable options for women with TNBC, there are fewer treatment options than other types of invasive breast cancer. Chemotherapy is the main treatment option with PARP inhibitors, anti-PD1 antibody, and Trop2 ADC used in selected situations. Survival remains challenging, thus more effective treatments with high therapeutic index are needed.
Besides the above cancers, Tavotek has also developed therapy for gastric cancer, liver cancer, and small cell lung cancer. We harness the synergistic modulation of multiple cancer signaling pathways using our expertise in protein engineering to increase the Therapeutic Index of novel cancer target therapies. Tavotek is developing the next generation, multi-specific antibodies to provide new treatment options for these patients.
2. IMMUNOLOGY
INFLAMMATION is a biological response of the immune system that can be triggered by many factors such as pathogens, injured cells, or toxic chemicals. These factors may induce acute but often chronic inflammatory responses in many body organs, leading to tissue damage or disease if left untreated. Chronic inflammation is characterized by loss of tissue function due to local immune, vascular, and/or inflammatory cell responses. There are many chronic inflammatory diseases and Tavotek's primary focuses are diabetic related complications and chronic inflammation of bone and joint disorders.
ALLERGIES occur when the immune system reacts to a foreign substance, commonly from airborne allergens (pollen, animal dander, dust mites, and mold), foods (peanuts, tree nuts, wheat, soy, fish, shellfish, eggs, and milk), insect stings/bites or allergen the skin has contacted. Such reactions can lead to the inflammation of the skin, sinuses, airways, eyes, or digestive system. Allergens in the respiratory tracts can also trigger and/or worsen asthma. Tavotek's primary focuses are asthma/COPD, atopic dermatitis, chronic rhinitis, and other common allergic conditions.
Since Tavotek has interest in chronic inflammatory and allergic diseases, we have developed effective long-acting antibodies with high therapeutic index for patients with these conditions. Two of these highly effective antibodies are finishing Phase 1 clinical trials to examine their PK/PD characteristics, safety profile, and dosage to be ready for subsequent clinical trials.